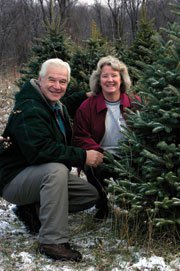 Hours
2023
Fridays, Saturdays, and Sundays: 9 am – dark
We will be opening Friday, November 18th, and after finding additional sellable trees on our farm, we have extended our closing date to Saturday, December 24th
We are available throughout the year by appointment only.
We Accept

About Us
Husband and wife team Pete and Judy Stadtlander established Stonehaven Tree Farm in 1991 and have been providing the highest quality trees in the Columbus and Central Ohio area ever since.
Pete grew up around trees and his father had the idea of raising Christmas trees for a 4-H project in Mantua, Ohio where they established the farm. Later the farm was moved to Loudonville, Ohio (known as Stadtlander Tree Farm) where his parents (professional artists and sign painters) operated the 60-acre farm and painted in their studio downstairs.
Years later, the farm in Loudonville was moved to the current location in Centerburg, Ohio.
Now we get visitors coming from as far north as Cleveland and as far south as Cincinnati. All expecting the same fantastic trees and service that we've always offered.
New this year is an expanded wreath room with a great selection of freshly made wreaths, crosses, swags, and evergreen arrangements.  Visit our miniature horses and enjoy some complimentary hot chocolate and cookies.  You will also find local crafts and goodies in our store located right on the farm where Christmas comes alive!
Location
We are conveniently located just off of State Route 3
6718 Perry Road
Centerburg, Ohio, 43011
Feel free to call us at (614) 668-6292